Online Tracking System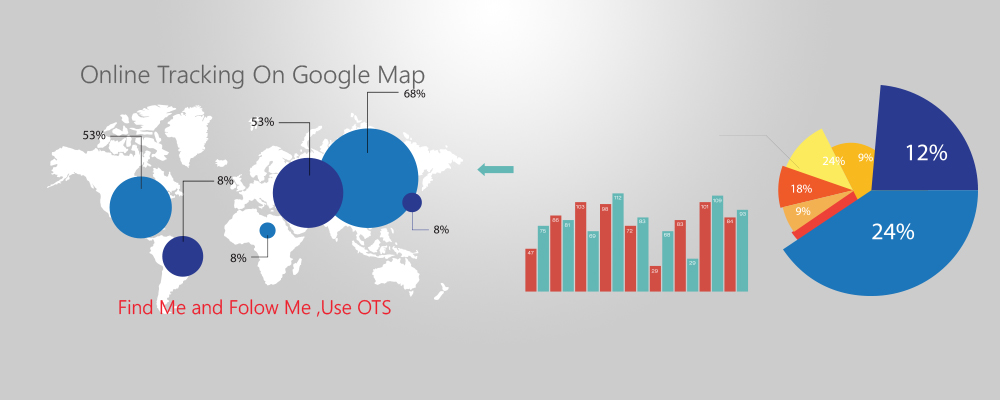 Online tracking system (OTS) for offshore or Automatic Vehicle Location system (AVLS) is a way of monitoring the location, movements, status and behavior of a vehicle or fleet of vehicles and vessels. This is achieved through a combination of a GPS (GNSS) receiver and an electronic device (usually comprising a GSM GPRS modem or SMS sender) installed in each vehicle, communicating with the user (dispatching, emergency or co-coordinating unit) and PC- or web-based software. The data are turned into information by management reporting tools in conjunction with a visual display on computerized mapping software.
This technology can help companies to implement fleet management. Fleet management is the management of a company's vehicle fleet. It includes the management of ships and or motor vehicles such as cars, vans and trucks. Fleet (vehicle) Management can include a range of Fleet Management functions, such as vehicle financing, vehicle maintenance, vehicle telematics (tracking and diagnostics), driver management, fuel management and health & safety management. Fleet Management is a function which allows companies which rely on transportation in their business to remove or minimize the risks associated with vehicle investment, improving efficiency, productivity and reducing their overall transportation costs, providing 100% compliancy with government legislation and Duty of Care obligations. These functions can either be dealt with by an in-house Fleet Management department or an outsourced Fleet Management provider. Persia Telecom Co. as a pioneer company in OTS and AVL provides full feature solutions for customers using localized software and cutting edge hardware. Our product covers directing, tracking, monitoring, and vehicle location system with the following features and specifications:
Monitoring vehicle's location on map anytime from anywhere with 1meter accuracy
Receiving vehicle's information such as fuel meter, speed and … simultaneously and continual
Remote controlling of vehicle from Internet or hand phone( turn off, door lock, …)
Sending/receiving message to and from driver
Vehicle necessary accessories:
Tracking set features:
Using GSM network
Using SMS and GPRS
Providing public and private service
Ability to send 2way command
Remote controlling of central lock
Simultaneous online tracking
Receiving vehicle real time information from SMS or Internet
Defining movement zone( Geo fence)
Speed controlling from client
Alarm system in rubbery, …
Defining abnormal movement or driving on anti tamper system
System software abilities:
Preparing received information from vehicles as classified and determined
Geo Fence definition ability for different vehicles, the alarm will activate if the vehicle exit from the defined range
Ability to control vehicle ( turn off, opening the door …)
Ability to use and edit employer's requested maps
Ability to draw tracking routs for one or many vehicles
Ability to search vehicles
Routing ability
Ability to set route
Can add all maps in the software without any limitation
Ability to connect locator software and pointing on "Google Earth"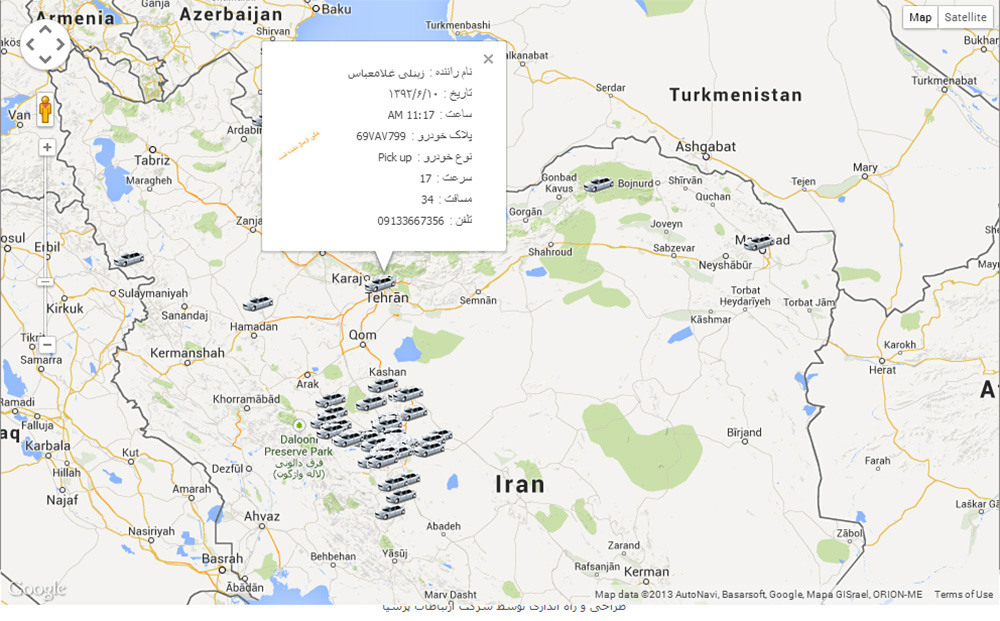 Data communication modality
In this system a tracking unit will be used in the vehicle. This device can send location, speed, angle … information to control center.